How To Create a Reels Outline Using Google Docs
Most Instagram Reel campaigns include a reels outline, Instagram in-feed Reel Draft (this is a submission of your reel for client approval), and 4 stories (3 unique stories and 1 story sharing the Reel). Of course, always check your campaign instructions before beginning your work to be sure of the exact campaign requirements.
Your first step is to submit an Outline in a Google Doc format. This is meant to be a summary of what the client should expect in your REEL. This must be approved before filming. This should only take a few minutes to create.
***Important Note: Do not begin on any imagery for the campaign until you have received word from your Campaign Manager that your Instagram Reel outline is approved.***
For your convenience, we offer this Google Draft Doc template. You can not edit this document. Below you will see how you can quickly and easily use this to create an outline.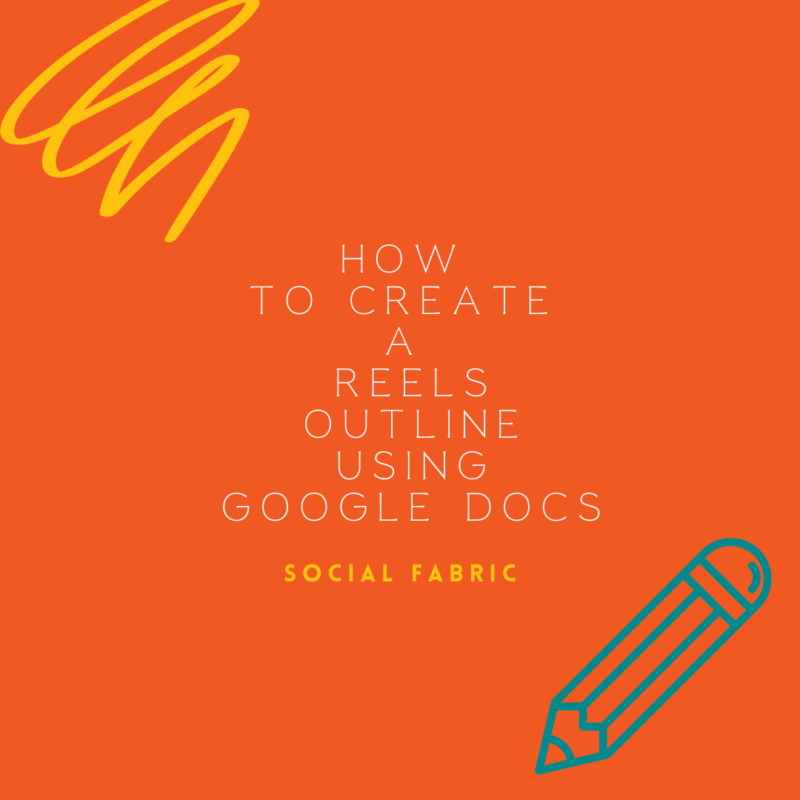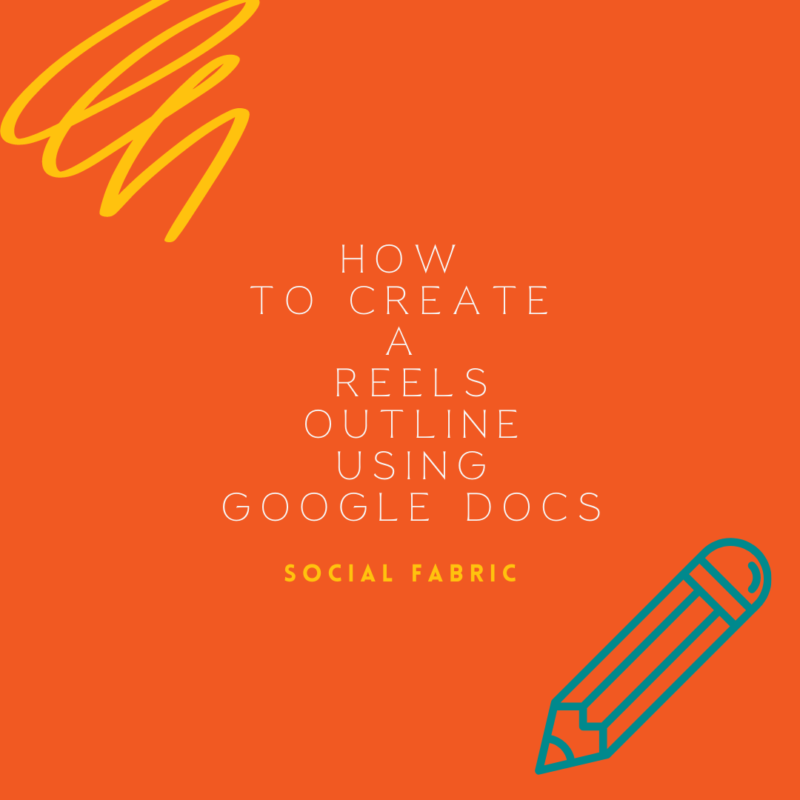 How To Use The Template
You may use this Google Outline Doc template. You can not edit this document. You have to make your own. So you can do 1 of 2 things. 1) Copy and paste it into your own Google Doc Draft. 2) Make a copy of the doc. Below you will see how to do this.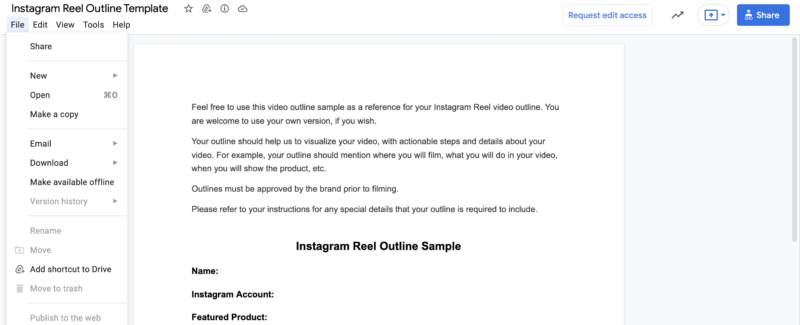 Click on File and then Make A Copy
You will see a pop-up to rename. You will use this format to rename: Your Name or Handle – Instagram Reels Draft. Then click OK.
Once this is complete, look at the document title. It should say Your Name or Handle – Instagram Reels Draft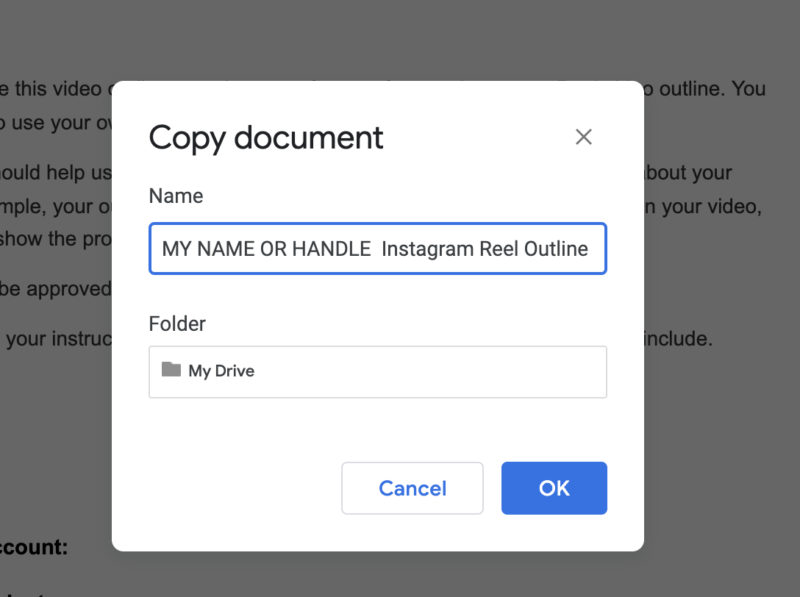 Complete Your Outline
Now you are ready to fill out the template with your information.
It is best to include:
Messaging points that you will incorporate (HINT: Pull from the instructions)
If you will be using music put exactly what you will use and the source proving it is royalty-free and free for commercial use. Please note, not all music in the Instagram Library is free for commercial use.
A high-level summary of what the client can expect to see in your video. It does not need to include every detail but should include the required elements and overall theme and story of your Reel. Be sure it matches the pitch from your application.
Include the exact product(s)
Include messaging points that you will use.
Include any hashtags, stickers, etc. that will be ON the reel.
And anything else that you think is important.
Check that your Name / Handle in the Title of the Document and in the body of the Document
Delete the section with instructions at the top.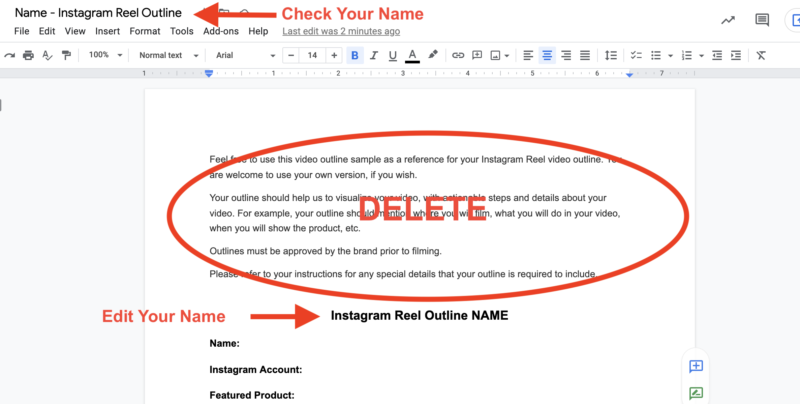 Now check the settings
Next, make sure the document settings are correct. This is very important. Click the "Share" button in the upper right-hand corner.
A new box will pop-up. Under "Get Link," you will see the document settings. Most likely, your document will say "Restricted." Under the "Restricted," click change.
Click the drop-down to say "Anyone with the link."
Now look to the right of the box. Change "viewer" to "editor" using the drop-down. Please do not skip this step. In order for your Community Manager to provide client feedback to your draft, we required editing access to the document.
Click "Done."
You can double-check by hovering over the share button to confirm it is public on the web.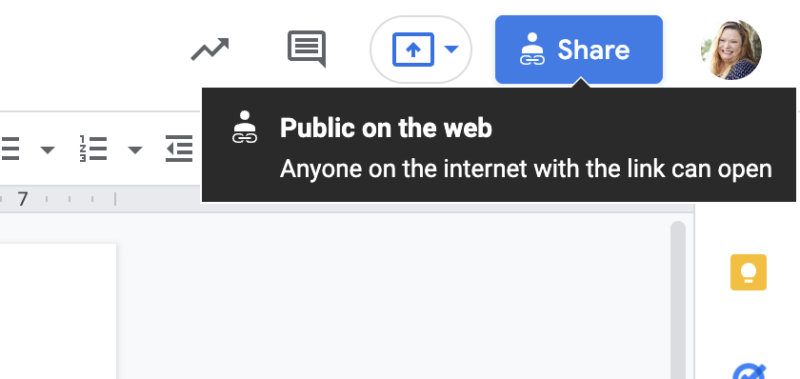 You are now ready to submit your Google Doc Outline! Copy the URL and submit this in the appropriate task in Social Fabric.
Other resources:
How to submit Instagram content
How to use Google Docs For Drafts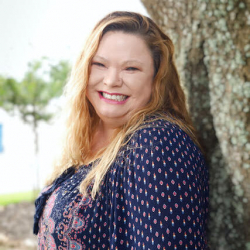 Latest posts by Heather Brummett
(see all)