How to Find Instagram Story Analytics
Occasionally, you may need to report manually in Social Fabric. When this happens you will need to wait till as close to the 24-hour mark as possible to report your analytics in Social Fabric under the stories task. You will upload the actual story that is saved to your phone if you have Instagram set up that way. If not, a screenshot will work. You will also need to provide a screenshot of each story's analytics. This will be a total of at least 8 screenshots for a standard campaign with a 4 story requirement. Or 2 screenshots if this is a blog post share task.  If you do additional stories be sure to include the story and analytics for each frame. In other words, for every story that you post you will manually submit 2 items – the story and the analytics. Below you can see how to find this information. 
Got to your IG profile
In the top right corner, you will see 3 lines. Click on that
In that drop-down list, you will see "INSIGHTS". Click on that.
Once in the insights screen scroll down until you see "stories".
Click on the arrow to see all
At the top of that screen, you will see the "last x days". If the 7 days have passed when you are asked for this information click on the top left where it says "Last x days" and you will have an option to see the last 7 or 14 or 30 days.
Once you see the stories for that campaign on your page click on EACH STORY! (Do not submit a screenshot of that screen that shows all stories.)
It will bring up that story.
Then you can swipe up to see your stats for that story.
Take a screenshot of that screen. That is the analytics that you will submit for that story.
See below for a walk-through of how we got to the analytics page.
If you no longer have that story saved on your phone you can also go back to the story. See step 8. But do not swipe up. Take a screenshot of that story.
You will now go into Social Fabric and submit 2 items for each story- The stats AND the photo story or video story.
On a standard campaign with 4 stories required you would submit 8 items.
You can submit additional stories on that page as well but include the stats for each story.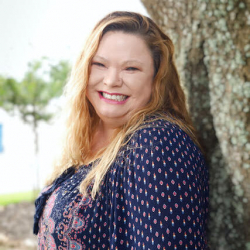 Latest posts by Heather Brummett
(see all)