How To Give Instagram Advertiser Access
Throughout the lifetime of this campaign, we may want to boost your Instagram post with paid media. To do so we'll need advertiser access to your page through the Business Manager. Please follow these instructions below to add Collective Bias as a partner.
Our business ID is 10152683243377079.
First things first: 
Connect Your Instagram and Facebook Accounts
Connect your Instagram account with your Facebook business page. To do this, first make sure your Instagram account has been converted to a business account (if you try to connect a personal IG account, you'll be prompted to convert it to an Instagram business account).
Log in to your Facebook, and go to your business page.
Click on Settings on the left. Once there, scroll down until you see Instagram on the left and follow the on-screen prompts to connect your Instagram account. Once your Facebook and Instagram accounts are connected, you're ready to use Facebook Business Suite.
Now give advertiser access:
Step one:
Finding Business Suite (aka Manager): 
From your desktop, log in to your Facebook account and then go here—> business.facebook.com. If Facebook Business Suite is available to you, it will automatically load to the new home page.
From your mobile device, you can search for and download the Facebook Business Suite app.
If you have followed the steps above it should automatically load. If you have multiple business accounts you will see a drop-down at the top left. Find the correct page and click on that.
Step 2:
At the bottom of the left on that page click on the icon for "settings"
Step 3:
Once settings are open click on "Business Settings"
Step 4:
On this page you will see Instagram Accounts in the list. Click on that.
Step 5:
You will see a page link and click Assign Partners. This and this is where you will put our ID number. 10152683243377079
Click next.
Step 6:
You will see a pop up saying you gave access and then when it goes away you should see Collective Bias listed as a partner.
Note: This is current as of 6/15/2021. Facebook and Instagram are constantly making updates.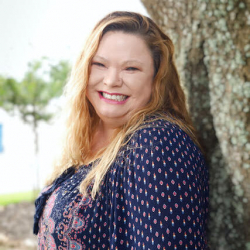 Latest posts by Heather Brummett
(see all)