How to Blur a Logo in a Video
Videos, whether on YouTube, Reels, or TikTok, are one of the hottest trends on Social Media right now. Social Fabric offers many opportunities to create videos for our campaigns. One guardrail that is universal for our campaigns is to not show competitors.
GENERAL GUARDRAILS: DO NOT showcase any other brands or logos. If you use other ingredients or products, please remove them from the packaging and blur out or remove the branding (ie: clothing, books, magazines, hats, kitchen appliances, recognizable locations and buildings, etc.) Do not include religious, political, polarizing comments or offensive or inappropriate language.
We realize that this can be challenging if you are working in a location where many logos are showing, like a public location or even your kitchen. You may have logos around your house that you don't even realize. Always check your surroundings for recognizable brands! You may be wearing a hat or clothing with a logo on it. This is often overlooked but is very important to avoid!
If you are creating a video and have some brands, logos, people, or other guardrails shown, there are options to help blur a portion of this branding in a video. Using the following app can help avoid major edits to your entire video and possibly cut out important sections of your video, or even avoid a full reshoot.
Here is a video tutorial to help blur a logo in a video using an iPhone app. It's quick and easy. It also maintains the high quality of your video. If you have issues viewing this please click here.
For other helpful tips see the articles below:
How to create a video in Canva
How to create a REELS outline for a Social Fabric campaign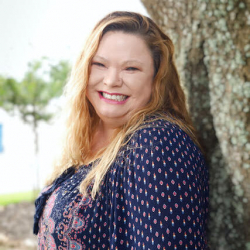 Latest posts by Heather Brummett
(see all)